We've all been there. A pop-up is hit on the infield, and several players call it. Or no one calls it. The ball drops in the middle of them as they all stare blankly at one another.
This happens often, particularly at younger and lower levels. But it will happen at the higher levels and older ages, too. Why? Due to a lack of communication and a basic understanding of pop-up and fly ball priority.
For the sake of argument, let's assume that everyone on the field calls for a ball. Even if this happens, the ball should be caught as fielders will give way to a single player.
Let's take a closer look…
Priority Chart
To help visualize this, below is an example of pop-up and fly ball priority…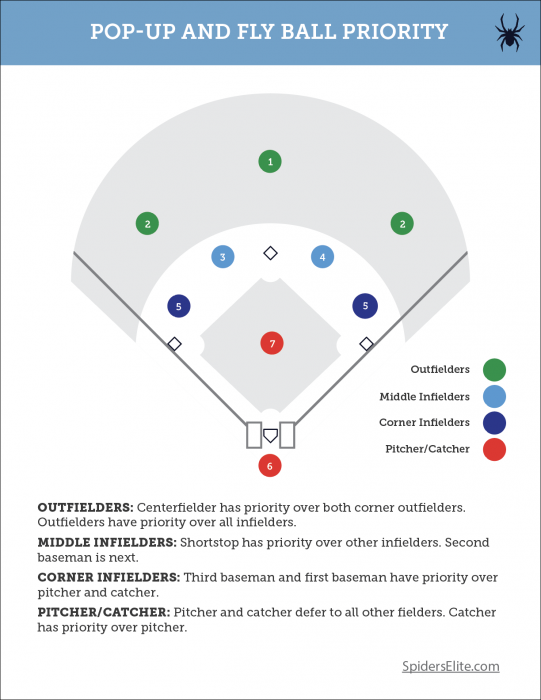 You'll notice that there are two players with "2" (corner outfielders) and "5" (corner infielders) priorities. This isn't a mistake. They have equal priority.
There should rarely ever be a situation when both players are fighting for a ball because they are on opposite sides of the field. In the outfield, the center fielder would likely take over. On the infield, a middle infielder would do the same.
But in the event that both of these players does make a call without a higher priority player available, one would need to take charge.
Priority Hierarchy
Priority is broken down as follows…
OUTFIELDERS: The center fielder gets priority over everyone else, regardless of whether it's a fly ball into the outfield or a pop-up in between. If the center fielder calls for it, everyone else must defer and back away.
That said, the corner outfielders have high priority as well. If there's a pop-up that a corner outfielder can get, his call overtakes any infielder. It's simply an easier play to come in on a ball than to go back.
MIDDLE INFIELDERS: The shortstop is the quarterback of the infield. Anything that the shortstop calls — assuming an outfielder doesn't also call for it — is his.
The next highest priority is the second baseman. This way, if there's a pop-up on the right side of the field, we want the second baseman to get it over the first baseman or pitcher, if possible.
CORNER INFIELDERS: Corner infielders get anything that isn't called by a middle infielder or outfielder. In particular, consider pop-ups in foul territory or between the plate and mound. Someone other than a pitcher or catcher should get them, if possible.
PITCHER/CATCHER: The toughest play on a pop-up is typically made by the pitcher or catcher. They are considered the last resort. The pitcher usually has a mound to contend with, making navigation to a ball while looking in the air a tricky situation.
While the pitcher has the lowest priority, he should not be completely out of the picture — particularly at younger levels. Far too often, a weak pop-up will fall because a pitcher doesn't call and the middle and corner infielders can't make it to the ball in time. The pitcher needs to be ready to take charge in this case.
BALL!
How you call for a ball is up to you, but it's best to remain consistent. While most kids may have been brought up on "I GOT IT!", I prefer something simpler like "BALL!" And repeat it for added emphasis: "BALL! BALL! BALL!"
HELP!
There's a significant danger to a shortstop or center fielder calling for a ball prematurely. They have the highest priorities in their respective areas. So, what happens if they quickly realize they can't get to the ball and regret their call?
Something the Spiders have implemented is a "HELP!" call. A shortstop initially thinks he can get a pop-up and yells, "BALL! BALL! BALL!" But maybe the wind blows it another direction or he loses it in the sun. By calling, "HELP"!, priority falls to the next fielders who make the call.
For the "HELP!" call to work, it's important that other fielders don't completely give up on a ball. Just because a shortstop called for it doesn't mean that the third baseman should run away. Yield ground to allow the shortstop to get it, but be close enough to take over if necessary.
Communicate Early, Loud, and Clear
It's one thing to tell players to call for a ball. It's another thing entirely to do so effectively.
Simply calling for a ball when it's about to fall into your glove isn't enough.
Using a speaking voice so that only someone very close to you might hear it won't cut it.
It's important that fielders call for a ball loudly and confidently. This is something that you must practice because it's always louder during the game due to fans and the opposing team.
Of course, we also can't have false confidence. The opposite of no fielders calling for a ball is that everyone calls for it as soon as it goes up into the air. We need something in between — calling for it once players have a good idea that they can get it.
How do we make sure that this is done properly in a game? We practice it!
Your Turn
What else does your team do to make sure that pop-ups and fly balls are caught?
Let me know in the comments below!