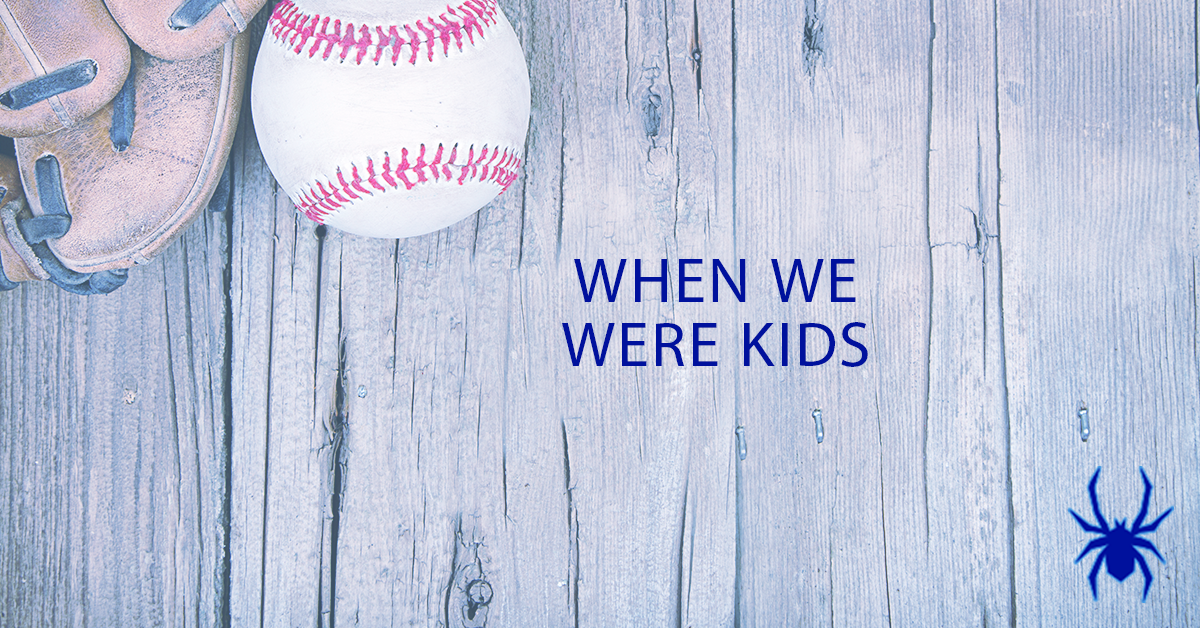 WHEN WE WERE KIDS, Quentin and Leo would knock on my door, and we'd head out on our bikes — "bye, Mom!" — to our own personal sandlot.
It was an open field at the corner of Berrien and Pine, open unless we were on it, wearing away home plate and the bases with our high tops. A big maple hung over third base, shading the left side of the field and a dog house that was home to a sometimes agitated spectator.
The first baseline stretched into Pine Street, graced by Cadillacs and Tauruses alike that would create the timeouts and obstacles of summer. Power lines led to the occasional do-over, and foul balls and doubles to right would carom off the bricks of a manufacturing building across the street, sometimes crashing through the windows or landing on the flat roof. The building may or may not have been abandoned, though it would eventually be torn down years later, our open sandlot surviving.
Anything hit to center, once it evaded our glove, would roll and roll and roll. There weren't fences.
We tossed failed curveballs that we swore were knee bucklers in between consuming homemade freezer pops made from Jell-O and cool-aid. We threw until our arms hurt and threw some more.
Quentin and Leo and my brother Dave and whoever else came by would hit and throw and fight and baseball for hours until the sun disappeared and we had to pedal back home.
WHEN WE WERE KIDS, I spent countless hours playing whiffle ball with my brother in the backyard, set up just right for the ultimate baseball park of our childhoods. I'd whip sidewinding slurves that rarely found the strike zone, and we battled for whiffle supremacy using our own house rules.
Off the house's dented aluminum siding without a bounce is a single, on the roof and back onto the field is a double, onto the roof and over the house is a triple, and over the house without touching it was the glorious, slow trotting home run.
We held our breath every time the ball rolled down the roof, as the gutter awaited to steal our last remaining, scuffed and broken ball.
But the little secret was that if you swung that long, skinny, yellow bat early and pulled it down the line, you could get a cheap homer over the short picket fence in left. Just don't pop it to right because the tree will hold your game for ransom.
WHEN WE WERE KIDS, we played rec ball and Little League and Pee Wee Reese and Sandy Koufax. Our coach was rough and angry and great. Our practices were loose and our games were less than perfect, but we thought we were going to the big leagues.
WHEN WE WERE KIDS, we didn't have travel ball, and any travel was to play the single team our age in nearby towns. We didn't have options of teams to play on in our small town, we just played for "the team." It wasn't AA or majors, it was just our team.
Our uniforms were passed down for a decade or we'd get a tee shirt with a team name ironed on the front, a number and sponsor on the back. Blue trucker hats perched atop our sweaty heads, a block "A" shining above the brim. Stretched out stirrups, unable to hold my skinny calves, rolled to my ankles.
Playing a season of ball cost less than 100 bucks and we had whatever bat and glove we had, usually passed down from an older brother if not two.
WHEN WE WERE KIDS, radio broadcasts shouted the sounds of summer, sometimes the local Tigers or, wire hangers extending our antenna, we'd hear Bob Uecker crackle across Lake Michigan. I knew every player's number, imitated his batting stance or pitching motion, and knew where he's played and how he's done because I had his baseball cards.
WHEN WE WERE KIDS, everyone was nice and everything was perfect and we walked two miles to school in the snow, uphill both ways and GET OFF MY LAWN.
WHEN WE WERE KIDS, it was different. It's not good or bad. It's unlikely to be that way again. Our kids will have their own memories and stories that won't be anything like ours.
And that's okay.
(Visited 1,187 times, 1 visits today)