Recently, I wrote about the impact of the count on hitting results for youth baseball players. Let's take a fresh look at that data but framed for pitching strategy.
The Data
You'll recall that I collected two data sets:
American League from 2015-17 (MLB)
Spiders Elite 14u and opponents in 2018 (17 games)
The goal was to get a sense of the success rate of batters whose plate appearance ended in a particular count to find out if certain counts were more advantageous than others to the hitters.
I used the American League only to avoid the outlier of pitchers. I used three years of data to give me a big sample size for most meaningful results.
The Spiders have only played 17 games so far, so sample size is an issue. That's why I included our opponents' results as well. After considering adding the 13u season, I quickly realized that those results are for a completely different game at 80/54 and skew the numbers.
While the results in the two data sets would likely have their own unique quirks, the hope was to find some common trends that we can learn from — and there certainly were.
First, the data from the American League during the 2015-17 seasons…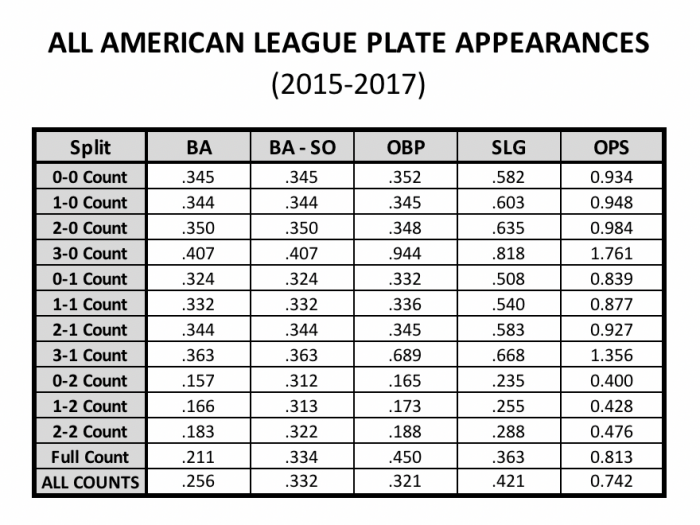 And now the data for the 14u Spiders and their opponents for the first 17 games of this season…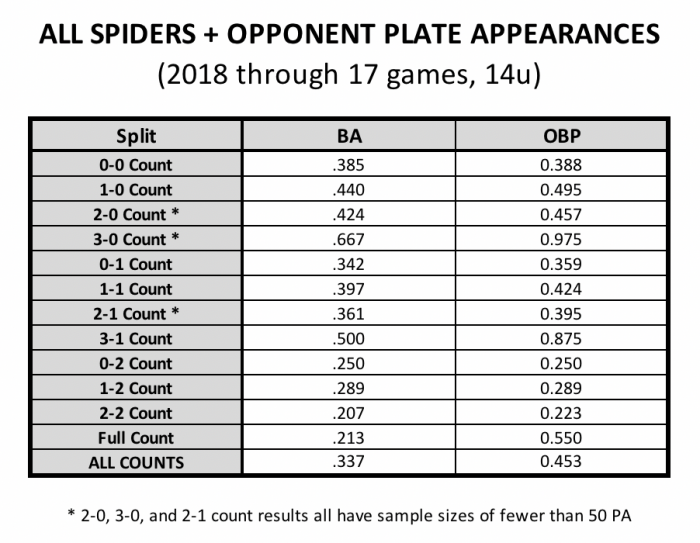 Even though the Spiders data consists of nearly 1,000 plate appearances, it creates sample size issues when broken down into parts — particularly for situations that happened fewer than 50 times (at bats that ended on the next pitch in 3-0, 2-0, and 2-1 counts).
Following are the highlights of what we learned from these two sets of data:
1. The first pitch strike was a huge advantage for the hitter in both cases, assuming that it was put into play.
2. The worst situations for hitters are any count with two strikes.
3. Even when removing strikes from the equation for MLB hitters, the two-strike counts still resulted in the worst results. This shows that hitters are getting worse swings during those counts.
4. The most advantageous counts for all hitters tend to be 3-0, 3-1, 2-0, 2-1, 1-0, and 0-0.
What it Means for Hitters
All of this means that hitters should be aggressive on strikes early in the count. Allowing a good pitch go by will put them into a count that makes a positive outcome less likely.
It also means not to be overly aggressive. Taking pitches out of the zone puts the hitter into a more advantageous position.
What it Means for Pitchers
In a vacuum, this data suggests the following…
1. First pitch strikes are important.
2. Getting ahead and staying ahead makes success for the pitcher more likely.
3. Reaching two strikes, one way or another, is most likely to lead to a positive result.
4. Imbalanced counts in favor of the batter are least likely to lead to positive results.
Of course, there's one issue with this: While it's important to get ahead in the count, the hitter should (in theory) also be hunting that first pitch strike.
As a result, we shouldn't necessarily approach all teams and hitters the same. Let's take a closer look at some common scenarios…
Strategy: Weak-Hitting Teams
If you're facing a weak-hitting team, you're playing into their hands if you don't come after them. They desperately want to reach base any way they can, and that may often be via the walk.
Get ahead. Throw strikes. Throw fewer offspeed pitches. Nibble less. Until they prove that they can hurt you, make them hit the ball.
Strategy: Aggressive Hitting Teams
The weak-hitting team is often the most selective. However, aggressiveness does not always lead to positive results. As a pitcher, you can take advantage of this.
You still need to get ahead, but you can get ahead in multiple ways. Since the hitter on aggressive teams is more likely to swing, you can get creative with offspeed pitches and fastballs that aren't in the heart of the plate early in the count.
Strategy: Top Hitting Teams
The top hitting teams are smart at the plate. They understand the impact of the count on what they are likely to see. They are selectively aggressive. Top hitting teams can punish strikes. They are strong top-to-bottom.
As a result, you can be more careful with how you approach such a team, particularly if you don't have a shut-down ace. The Spiders used this modified strategy for one of the strongest hitting teams in the state this season, and it resulted in allowing one run in seven innings.
Be unpredictable. Keep the ball in safe spots of the zone. Offspeed pitches down. Fastballs alternated on the hands or down and on the outside half.
Getting ahead is nice, but in this case you want to get ahead on your terms. A few walks are okay because they are better than extra base hits.
Strategy: Imbalanced Lineups
The vast majority of youth teams have imbalanced lineups — meaning that there is a large difference between the top/middle of the lineup and the bottom. As a result, you can treat hitters differently based on the spot in the lineup.
Ideally, that's not the case for your team. So far, the Spiders are a very balanced offense. That doesn't mean we all mash the ball, but it means that there is virtually no difference between our strongest and weakest hitters. In fact, I've yet to assemble a set lineup and regularly randomize it as a result.
Assuming you're facing an imbalanced lineup, you can be far more aggressive with the bottom of the lineup. Get ahead with fastballs. Stay ahead with fastballs. Get creative with pitches out of the zone only when you're way ahead.
Depending on the strength of the top of the lineup, you may take the "top hitting teams" approach with them. That said, feel free to be aggressive with the singles hitters, forcing them to get on base with a hit. It's the doubles hitters that you need to be more careful with.
Strategy: Strong Defense
The greatest strength of the 14u Spiders at this point in the season — by far — is our defense. We have flexibility and coverage at all positions.
We aren't perfect, of course. They're still kids. They make mistakes. But they make fewer mistakes than most at this level.
It's important that we play into this strength. We want the other team to hit the ball. Walks are a terrible result for us. They eliminate our greatest strength.
For our team, we should rarely make exceptions to wanting to get ahead of the hitter. Even for the middle of the lineup or above average hitting teams, we have the defense to get outs at a high rate.
With a strong defense, make the hitters earn their way on. Be ultra aggressive with your pitching until the other team proves they need to be respected at the plate.
Caveat: It's Easier Said Than Done
This is all theory, of course. It's strategy based on stats. In most cases, it's very important for the pitcher to throw strikes and get ahead.
But these are kids, after all. Telling them to "Just throw strikes!" doesn't work. At this stage in the season, it's actually been one of the areas of needed improvement for the Spiders.
The main thing is that your players understand the importance of getting ahead in the count. It's a huge advantage to them if they can accomplish it. One of the primary goals for any pitcher should be to throw first-pitch strikes.
Execution? That's always another story.
Your Turn
How does your team approach pitching strategy? Anything you'd add or any exceptions that you'd make?
Let me know in the comments below!
(Visited 3,271 times, 1 visits today)