Fielding in baseball, when done right, looks easy. Everyone knows their responsibilities and where they need to be. Understanding these responsibilities makes up the fundamentals of fielding in baseball.
An underappreciated aspect of winning baseball games is run prevention. But even under that umbrella, we often focus on throwing strikes and limiting obvious mistakes. But the reality is that a major portion of run prevention is limiting the number of bases each runner takes.
This is controlled primarily within the team's ability to be in the right place at the right time. Quick throws to the right base. Even if a ball gets by, someone is there to pick it up.
While the Spiders have a playbook detailing defensive responsibilities, it's important that young players aren't simply memorizing each scenario. Because plays are fluid and often don't occur the way we expect, fundamentals are critical to help players adjust.
One of the fun challenges of coaching a young team of 10 and 11-year-olds this season is that it forces me to take a step back. They often don't understand the basics that we take for granted with older kids. And by starting at a fundamental level, it can help coaches better explain the "why" to players of all ages.
In a recent Chalk Talk with my players, we took this necessary step back. Instead of diving into a situation and the associated responsibilities, I asked a simple question: What factors determine what you need to do and where you need to go?
1. Who Will Field the Ball?
Pretty simple. The ball is hit somewhere. Someone needs to get it.
In tee-ball, we've seen what happens when the ball is hit. Nine kids all converge on the ball. But eventually, they begin to understand that not everyone should field it.
If it's hit directly at one player, it's obvious who needs to field it. But it's often not that clear and two or more players need to attack the ball.
So, when the ball is hit, that is the first question a player should be asking himself. Who is going to field this ball?
2. Who Will Back Up the Fielder?
One of the primary mistakes young fielders make is assume a teammate will get the ball. While, yes, they may be positioned to get it, what happens if it gets by them?
THIS is an area that so often separates the bad teams from the better ones. A ball that gets by an outfielder can't go from one to four bases. Hopefully, it remains at a single base. Worst case, it becomes only one additional base.
There will ALWAYS be at least two outfielders going for the ball hit to the outfield. In the example below, a ball is hit directly to the right fielder. The center fielder, taking nothing for granted, backs him up.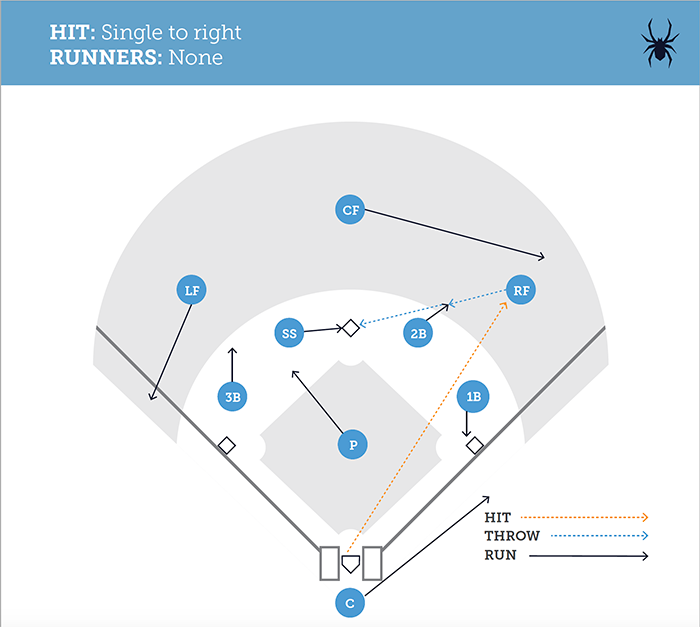 All players need to quickly observe whether they are in the area to back up a teammate who is fielding the ball.
3. Who Will the Ball Be Thrown To?
Once the ball is hit, we also need to be thinking about the runners on base and other conditions that dictate where the ball will be thrown.
The focus will typically be on limiting bases of the lead runner. On a simple base hit, for example, we'll usually want to throw one base ahead of where the lead runner is going (assuming we can't get him at the next base).
So, with a runner on first, we'll throw to third…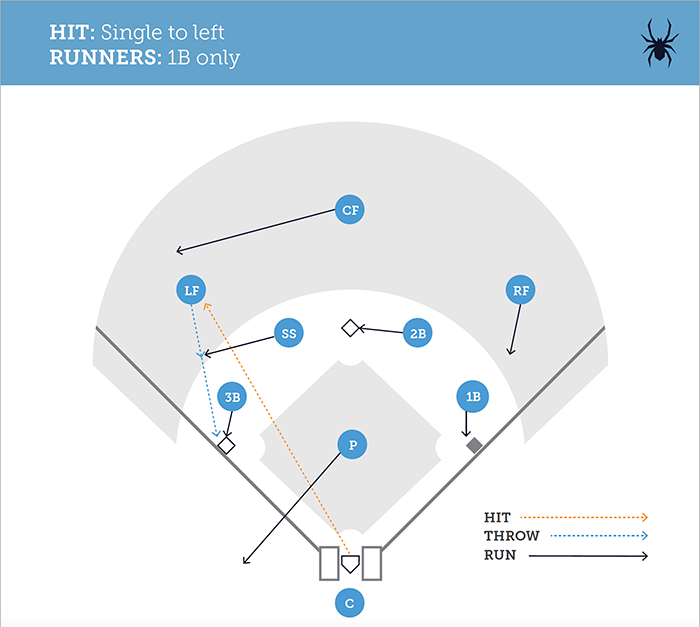 With a runner on second, we'll throw home…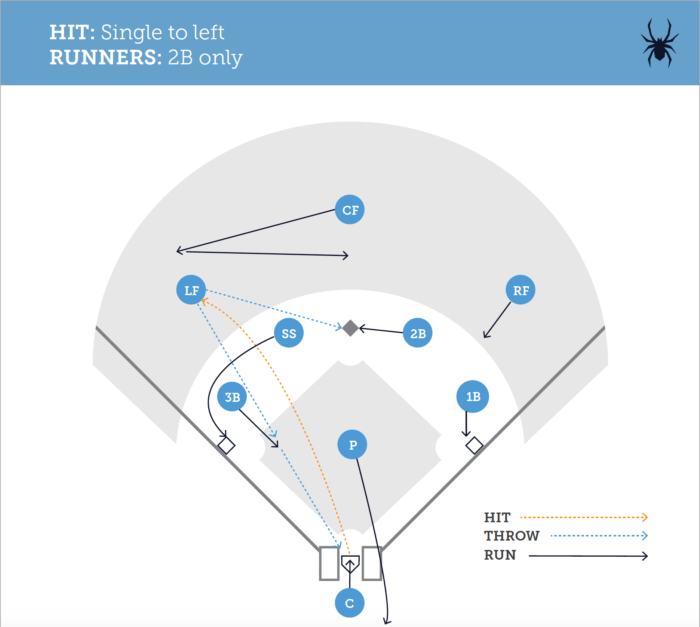 With no runners on, we'll throw to second…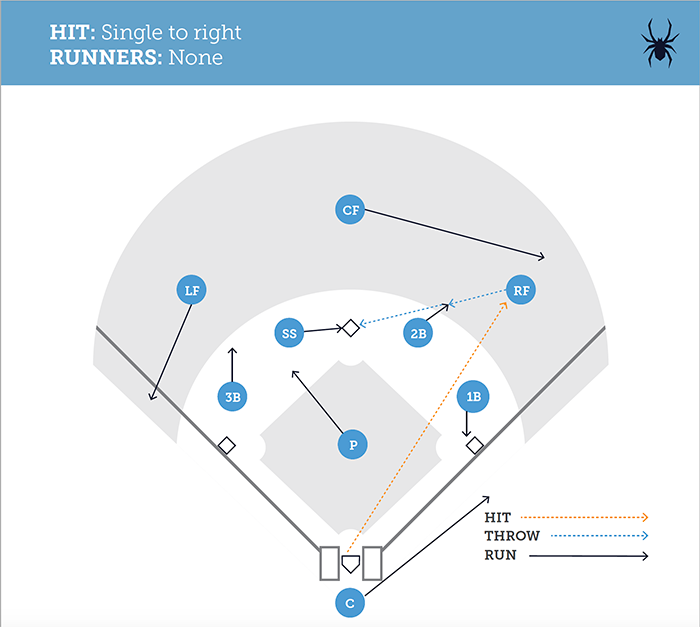 Who will field that throw? Will it be you?
4. Who Will Cut-Off or Relay That Throw?
When there's a throw from the outfield, there will almost always be a cut-off or relay man in between. The presence of this player minimizes the length of the throw, and can redirect either an errant throw or a throw to another base.
This player will be roughly around the midway point between the thrower and the ultimate destination of that throw (preferably in a straight line). On throws home, this will typically be either the first…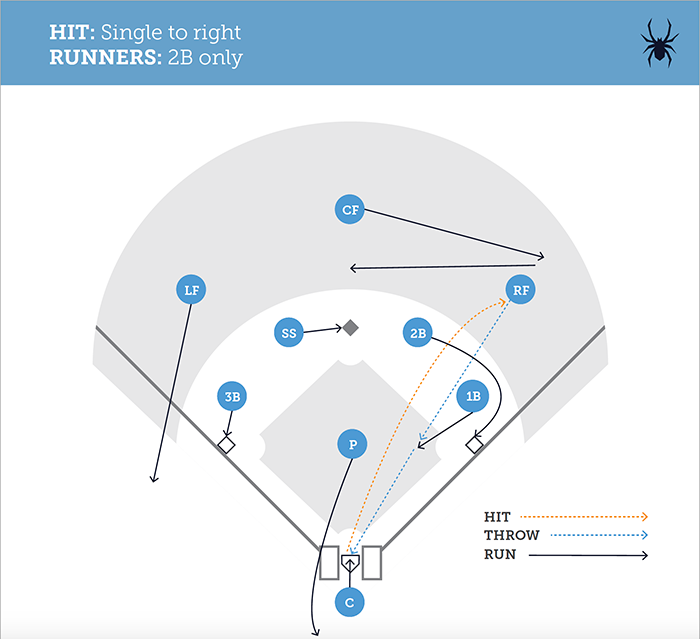 …or third baseman…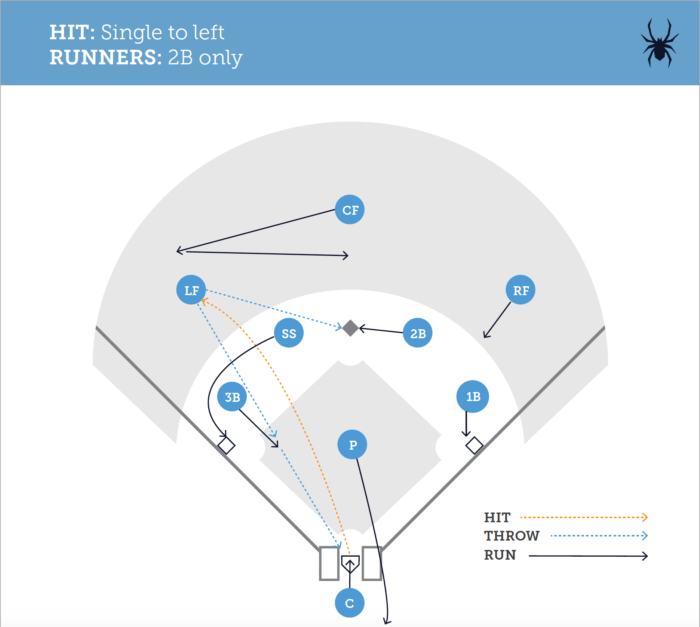 Will that player be you?
5. Who Will Back Up the Relay?
Even if you aren't receiving the throw or the relay, you may be backing up the relay. An example of this would be a double cutoff situation on extra base hits where a second baseman and shortstop both go out into the outfield — the second of which is primarily there to direct and back up the cutoff.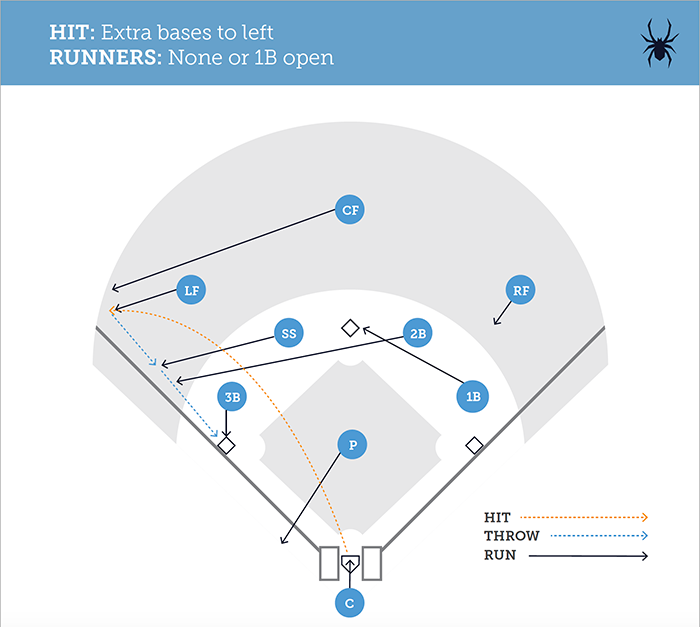 Another common scenario is the pitcher — particularly with no runners on. The pitcher will often be the one to back up throws back to the infield.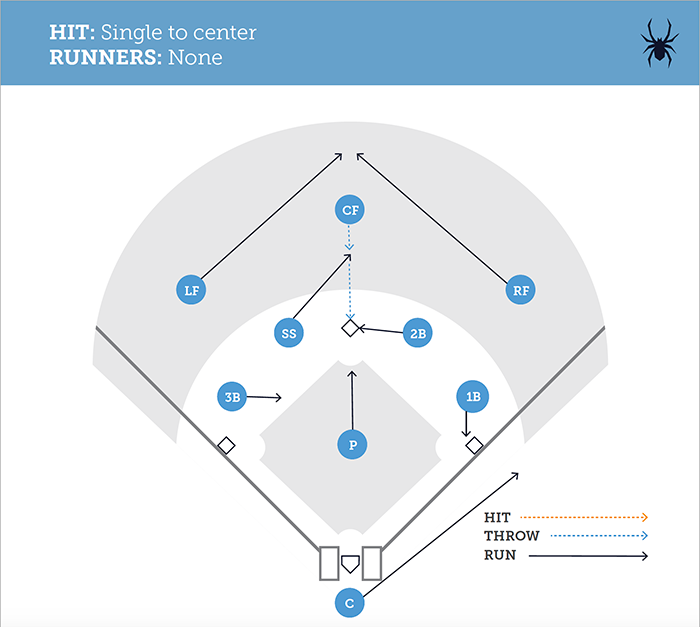 There is always something to do or somewhere to go. When it seems there's nothing else for you to do, this is often your responsibility!
6. Who Will Back Up the Throw?
The throw we refer to here is the throw to the ultimate destination. So, a throw home or to another base, rather than the throw to the cutoff. What happens if the ball gets through? If other players are on base, they will undoubtedly advance.
Once again, this is very often the pitcher's responsibility — particularly on throws home and to third. We've seen this a couple of times above already, but let's share them again.
The pitcher backing up a potential throw to third…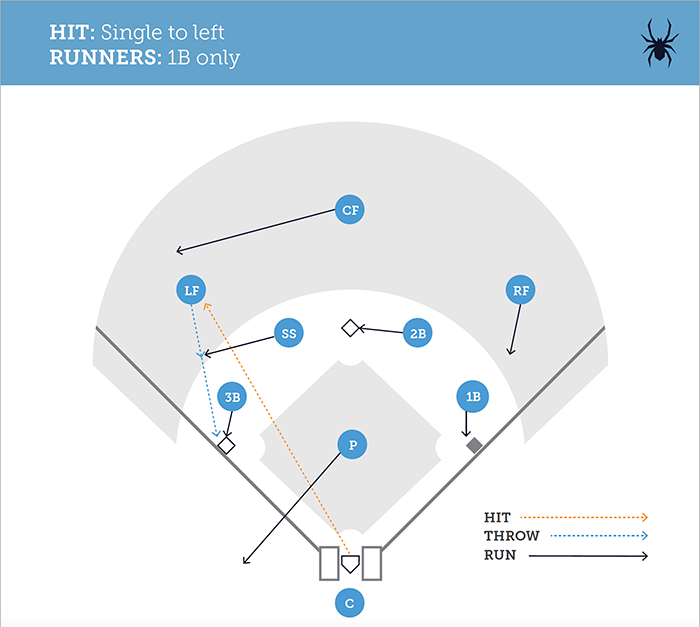 The pitcher backing up a potential throw home…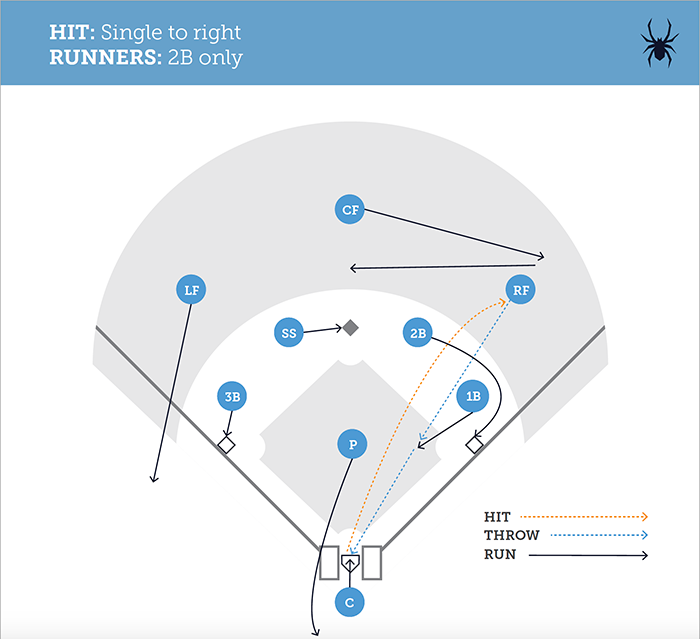 Next time you see a throw get by one of these bases, take a look around to see where the pitcher is. He's likely standing on the mound!
Another example of this impacts outfielders. If the ball is hit to the right side of the field, the left fielder isn't without a responsibility. There will often be a throw to second or third. In those cases, he needs to position himself properly so that any ball that gets by will be backed up.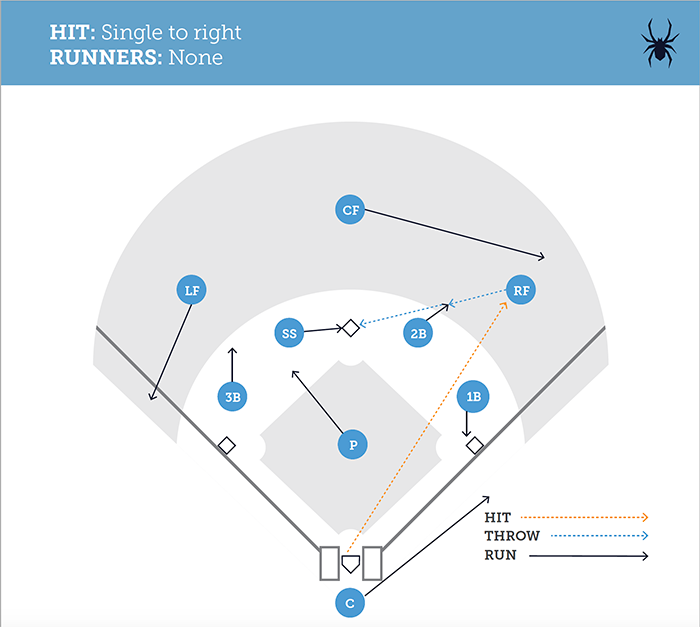 We've already looked at that example a couple of times, but this just shows you how every player's responsibility changes!
This Applies to Infield Hits, Too!
While these responsibilities are often associated with hits to the outfield, let's not forget hits on the infield. Once again, coaching younger players has made me realize that this is something we often take for granted.
Let's consider what happens when a ball is hit to the first baseman with a runner on first…
1B: Fields the ball and chooses option of throwing to second, stepping on first, or flipping to 2B/P covering
2B: Backs up first baseman and runs around to cover 1B
P: Runs to cover first base
SS: Covers second base
RF: Runs in to field the ball in case it gets through
CF: Initially runs to back up right fielder in case the ball gets through
LF: Ready to back up throws to either second or third, depending on the situation
3B: Covers third in the event of a play there
Here's what it looks like…
Your Turn
There's always so much to do! It's important that young players understand that this is less about memorizing and more about instincts, reactions, and thinking ahead.
1. Where is the ball going?
2. Who will field it?
3. Who will back it up?
4. Where will the ball be thrown? Who will receive it?
5. Who will cut off that throw?
6. Who will back up that cutoff?
Oftentimes, crazy plays happen. We can't plan for them with a playbook. But if players are thinking this way, they'll put themselves in a good position to optimally prevent runs from scoring.
Anything you'd add? Let me know in the comments below!
(Visited 4,991 times, 2 visits today)