One overlooked coaching philosophy that significantly impacts team dynamics is roster size. Parents are often concerned about things like coaching style and competition level, but roster size often makes or breaks a season for young players.
During the past three seasons, the Spiders have had 10 or 11 players on our roster. We've toyed with the idea of 12, but I have since decided that I will never go that high again for a youth team.
That's personal preference. But let's take a closer look at typical roster sizes and the benefits and drawbacks of each…
9 to 10 Players
Hey, everyone plays!
I plan out the lineup for the entire game — who sits and who plays for each inning. This way, I know we're covered at every position and I can be careful about how often players sit.
Here's an actual lineup when we've played a six-inning game with nine players (names removed)…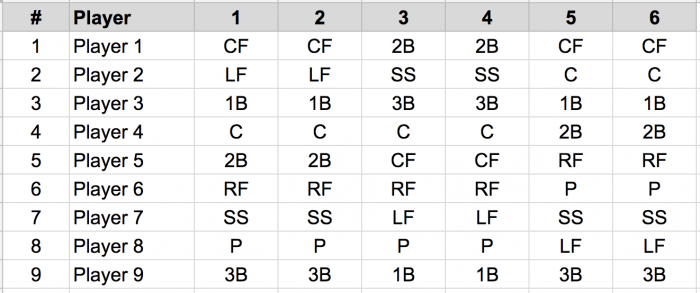 I shuffle players around based on who is pitching and catching, and I also try to give players opportunities at multiple positions (important Sunday games may be different).
And here's an actual lineup when we've played a seven-inning game with 10 players…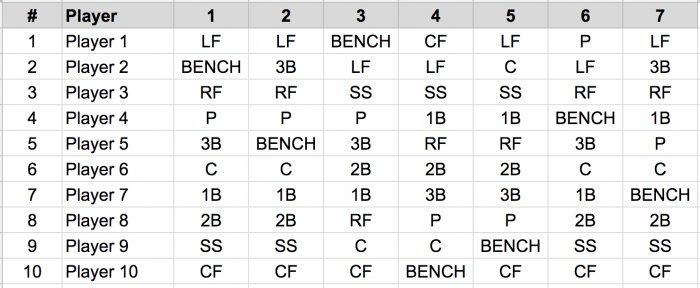 It immediately gets a tad more complicated, but everyone gets to play a lot and it's easy to manage.
BENEFITS: 1. Playing time. Make no mistake, this is a big one. Particularly at younger ages, knowing that every player is guaranteed a high number of reps is attractive. Even if you have 10 players, that means that one player will sit per inning. In a six-inning game, that will usually mean six kids sit once or no one sits more than twice.
As a dad, this one is very important to me. My youngest son was in a situation where he played for a high-level team for two seasons that had a roster of 12. At eight and nine years old, that also meant a juggling of playing time. But this year, his team has a roster of nine. Lots of guaranteed playing time, and he's progressed more this season than any other as a result.
2. The lineup. With nine or 10, you'll almost always hit the entire lineup, even on Sundays. As a result, the lineup will also turn over more often, leading to more plate appearances.
DRAWBACKS: 1. Fielding a team. In the first season of the Spiders, we had 10 players. Luckily, they were 10 very committed players with minimal conflicts. As a result, we never needed guest players or struggled to field a team.
But if you have a roster of nine or 10, it can create some uneasiness. Will you have enough players for this weekend's tournament? What if someone gets sick?
2. Depth. This isn't to say that you can't build a small roster with depth, but it's not easy. Do you have two capable players at each position? It can be more difficult to field a competitive team as a result.
3. Pitching. Particularly in the bigger tournaments, you may be looking to play more than five games. If you only have nine or 10 players, you may not have the pitching you need to get through it. As a result, that could mean fewer games and reps for your players. It's absolutely imperative that everyone can pitch on a small roster.
11 Players
I find that this is a nice balance between the small roster (that has uncertainty) and 12-man roster (that can result in less playing time).
Here's an actual lineup of 11 players for a seven-inning game…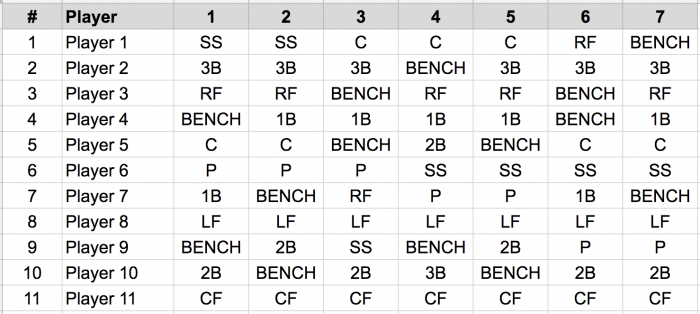 Now it gets trickier. If you're going to avoid sitting some players, others need to sit more often. But still, it's reasonable and manageable.
BENEFITS: 1. Stability. You get some cushion if a player or two are unavailable. Less need for guest players.
2. Playing time. Certainly, not as significant as with nine or 10 players, but playing time isn't too difficult to manage with 11. It means that you need to have 12 players sit at some time during a six-inning game (two per inning). In a perfect world, everyone could sit once and one player would sit twice. But it's reasonable that some players may sit three times in important games.
3. The lineup. A roster of 11 is about the limit of where you'll expect a team to consistently bat the entire lineup. Any bigger, and it simply takes too long to get back to the top. I have batted the entire lineup every game — even championship games — for this year's Spiders team.
4. Depth. If assembled correctly, a roster of 11 will have coverage at all positions. Even when sitting two players per inning, there is always a capable player at each spot in the field.
DRAWBACKS: 1. Some uncertainty. While there's some cushion here, there's still the potential for conflicts, injuries, and sicknesses to create issues. Our 14u Spiders have actually played many games this year with only nine (even a couple with eight), so this may also be due to age. The older they get, the more likely conflicts become.
2. Pitching. I wouldn't consider this an issue in the typical tournament. We've had enough pitching to carry us to and through championship games this season. But it will be a challenge when we get to state tournaments that are three days long and result in more games. Some teams stack up on guest players who can pitch for this reason. We may be at a disadvantage at that point.
12-Plus Players
"Who are you again?"
Look, eventually these kids get to high school and all rosters will tend to be 14 or more. But in my opinion, I'd like them to get the reps they need before they get there.
Now, the following isn't an actual lineup because I don't have 13 players. But let's take a look at how chaotic this gets if you have 13 players and bat the entire lineup…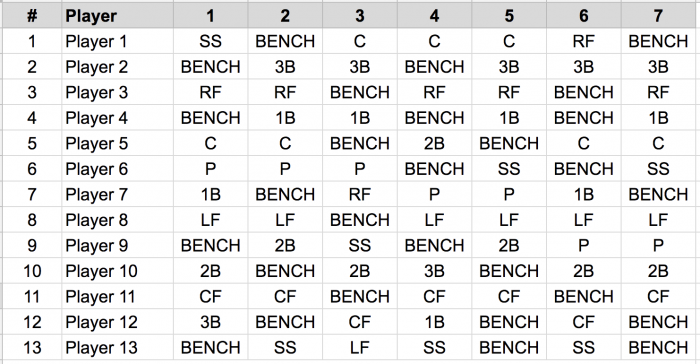 In this case, nearly everyone is sitting at least twice with some players sitting three times in a seven-inning game. But you can imagine that in a more important game, several players would be sitting three or four times to maximize the defense.
And this assumes hitting the entire lineup. If you did, you can expect that most players would have no more than two plate appearances in a seven-inning game. And in a low scoring or shortened game, some will only hit once. And that's assuming you're hitting the entire lineup!
BENEFITS: 1. Depth. If you have 12-plus players, you sure better have depth. Otherwise, you did a bad job of building a roster.
2. Pitching. Same as #1, you technically should have plenty of pitching with 12 or more players. But it's entirely possible that this isn't the case, too.
3. Competitiveness. I've seen bad teams with rosters of 13-plus, so this isn't guaranteed. But many of the most competitive teams have large rosters and then field their best possible nine for important games.
DRAWBACKS: 1. Playing time. Unless you're one of the top four to six players on the team, be prepared to sit. And if you're at the bottom, you're going to sit a lot.
2. Lineup. These teams are much more likely to bat only nine or 10, which means multiple players will struggle to get reps at the plate. And if the team hits the entire lineup regularly, it could lead to all players having diminished at bats — particularly if the lineup isn't particularly strong.
3. Instability. Here's what I mean by this… When you have nine, 10, or 11 players, the players who are in the field might change very little from inning to inning. You're making minor tweaks. But with larger rosters, you're benching three players with 12-player rosters and four players with 13 in each inning. That sets the stage for dramatic instability from inning to inning.
And if not, that means that those getting benched will sit far more than those playing regularly.
4. Drama. Yeah, be prepared for drama when you deal with bigger rosters. It's very difficult to make everyone happy.
Know What You're Getting Into
There are plenty of opinions and personal experiences baked into this. As you can tell, I prefer smaller rosters, as long as they are assembled well. It guarantees playing time, reps, and development for all. There are inherent weaknesses with small rosters, but I've found they are more likely to lead to happy teams and families.
Big rosters can work, too. Just know what you're getting yourself into. Know how many players the coach is planning to have and how that may impact your child. Don't assume he will be one of the stars and won't get the short end of playing time. You need to decide whether the inherent drawbacks associated with larger rosters will lead to the experience you want for your child.
Your Turn
Everyone has their own personal preference when it comes to roster size, both from the coach and family perspective. What do you think?
Let me know in the comments below!
(Visited 24,478 times, 1 visits today)