We want to keep youth baseball fun. We also want to recognize every player's contributions and make them feel appreciated. Baseball is a mental game, and it's important to create ways to keep your team loose, confident, and motivated.
That's why the Spiders created the Money Chain.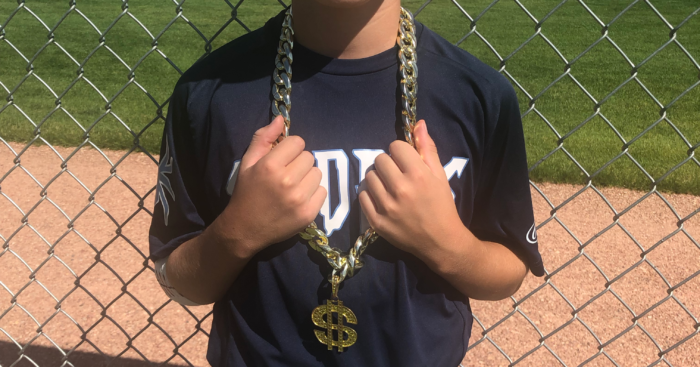 It's not an original concept. We've seen the Turnover Chain. I was ultimately inspired to do something like this after seeing Rogue Baseball do a Player of the Week award for my older boys.
Another solid day on the practice field. Players of the week: @PrestonTenney – Pitcher, @Stilian_B – Defender, @QBrazz5 – Hitter #ROGUE pic.twitter.com/qhkT48cZrB

— Rogue Baseball (@Rogue_Baseball) June 15, 2017
Let's talk about the goals of the Money Chain and how we handle it, as well as how you could apply this to a similar award for your own team.
What Is the Money Chain?
The Money Chain is a gaudy, gold-looking chain (it may actually be worth about $15) with a big "$" symbol hanging from it. It screams, "LOOK AT ME!" and that's intentional. We want people to notice it.
The Money Chain is awarded to a player following the final game of the day. It goes to a player who was "money" that day. It could be at the plate, on the mound, in the field, on the bases, it doesn't matter. It could be for hustle, sportsmanship, or something else entirely.
After the coaches finish our post-game speeches, I whip out the money chain. Everyone knows it's coming. I explain what the day's "money" player did and why they deserve it. We then have a presentation ceremony where the player gets down on one knee, and I put the chain around his neck. That player then leads the team in counting us out ("1-2-3 SPIDERS!").
It's fun because everyone then sees the player leaving the field with this ridiculous chain. Big smile, lots of pride. That player often then wears the chain to dinner, school, practice, whatever.
The important thing, of course, is that the player needs to take care of the chain. He also needs to bring it for the next day of games, whenever that is. It's incredibly bad form not to bring it, as we will then not be able to award the next deserving winner.
My goal is to award a different player with the Money Chain after each day of games. I try to award every player the Money Chain once before giving it to anyone a second time. Of course, there can be exceptions if any player had just an insanely good day of games.
Variations of the Money Chain
There are so many things you could do with this.
You could give different awards for hitting, fielding, pitching, and even baserunning. If you give multiple awards, it may be best to do this at the end of a tournament rather than the end of a single day's games, like we do.
You could also have something that players wear during the game, rather than after. In other words, if a player made an insane catch, hit a homer, struck out the side, or something else, you could have that player put on the chain while in the dugout. Make it a big deal.
Of course, it doesn't need to be a chain. It could be a silly hat. Or, like Rogue does, it could carry a responsibility with it. There's a bucket of balls that the player must carry to and away from the field before and after practices and games. It's actually a job, but one that they don't mind since it's a good recognition!
Keep it Fun
As mentioned at the top, the goal of these awards is to keep it fun and recognize players for their good play. They look forward to this. It increases their own competitiveness and they want to win it.
We've talked before about how coaches contribute to player burnout. This is a small thing, but it represents a positive culture that the boys really enjoy.
Your Turn
Do you do anything like the Money Chain? What do you do?
Let me know in the comments below!
(Visited 1,863 times, 1 visits today)