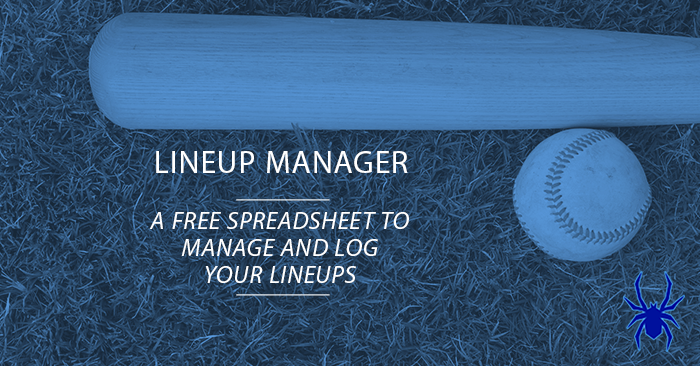 One of the purposes of this website is to share with you my philosophies and approaches to the game of youth baseball. Additionally, I like to share the tools I use that could make your life easier as a coach.
I'm an organized coach. I'm far more organized as a coach than I am in my out-of-baseball life. I come into every game prepared to the point of over preparation.
I typically plan out a single game's lineup at least a day in advance — if not more than that (if it's the first game of a tournament, I may plan sooner). I am always on top of who is batting where in the lineup, playing in the field and when.
While a game is fluid and changes are bound to happen, it's still important that you have a plan. You don't want to be that coach who takes too long in between innings to get his kids on the field.
Additionally, you may want to stay on top of how many innings each player pitches or catches to protect their arms. Or you may want to keep track of which players hit last or sit the bench to try to mix that up a bit.
With the youth baseball lineup manager spreadsheet I've created, you can do all of these things. The individual game lineups are printer friendly so that you'll have something to bring to the games. And when you finalize your lineups, you will also get a log of who played and hit where and how often.
If you want a copy of this spreadsheet for yourself, I'll give it to you. Just fill out the form below…
It allows you to create and manage lineups for up to 50 games.
Here's a video to walk you through it…
And here's a step-by-step overview of how it works…
Here's a spreadsheet to help youth baseball coaches manage and log their lineups...
Click To Tweet
Multiple Tabs

This spreadsheet is broken up into the following tabs:
Roster
POSLog
LineupLog1
LineupLog2
Individual Game Lineups
Let's go through each of these tabs.
Roster
This tab is pretty straight forward. First you need to select the number of players on your roster from the drop-down at the top left.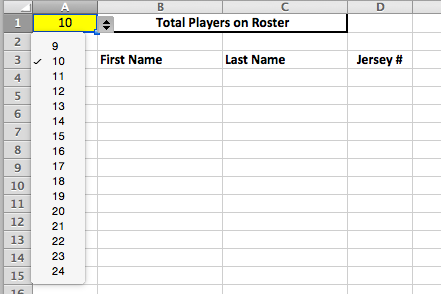 Make sure this number is correct. This controls the numbers that run down the side, and there needs to be one number per player. If you don't have a number for a player, that player won't show up in lineups.
Now fill out your roster with players' first name, last name and uniform number…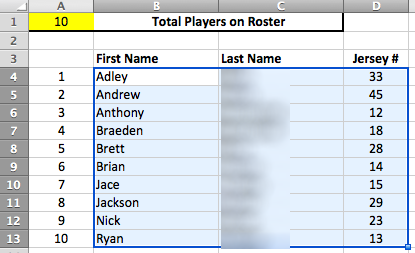 It's important that all of this information is entered correctly as you'll be using it throughout the rest of the spreadsheet.
POSLog
This spreadsheet provides a log of the number of innings players played at each position throughout the season.

A few things to note here…
First, this sheet is protected, so you won't be able to edit it. Everything appears here thanks to formulas pulling from what you entered in the individual game lineups.
Second, the boxes highlighted in light red indicate a player or players who spent the most innings at that individual position.
Finally, I've set the page format and print area so that this sheet should print nicely for you. If not, just go to File > Page Setup and set the page to "Landscape" and set the margins to .50″ for the top and bottom and .25″ for the sides. You may also want to select the cells that you want to print and set your print area.
LineupLog1
This tab provides the number of times each player batted in each spot in the lineup as a starter.

If you don't always bat the entire lineup, there will be a log item for the bench as well.
Like POSLog, this sheet is protected and you won't be able to edit it. But you won't need to!
Once again, the boxes highlighted in light red indicate a player or players who started at that spot in the lineup most often.
Finally, this sheet should also be printer friendly. But if it isn't, set it the way you did for POSLog.
LineupLog2
There is also a lineup log by game.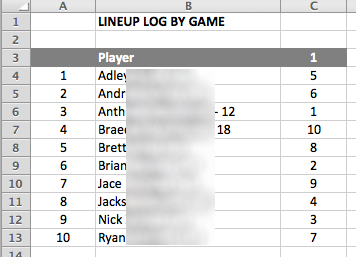 This will give you a raw overview of the lineup spot each player had for each game throughout the season.
This sheet is also protected since it uses formulas to pull the data for you.
Since this spreadsheet holds up to 50 games, this sheet isn't quite as printer friendly. I did set it to work as nicely as possible, but after a few games you'll have several sheets.
Game Lineups
Finally, you have 50 game lineup tabs to work with.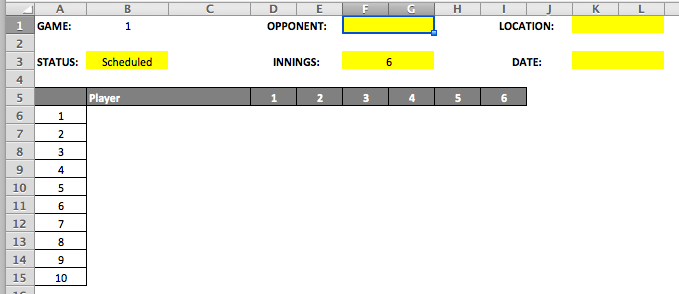 First, make sure that you fill in all of the information at the top shaded in yellow:
Opponent
Location
Number of Innings
Date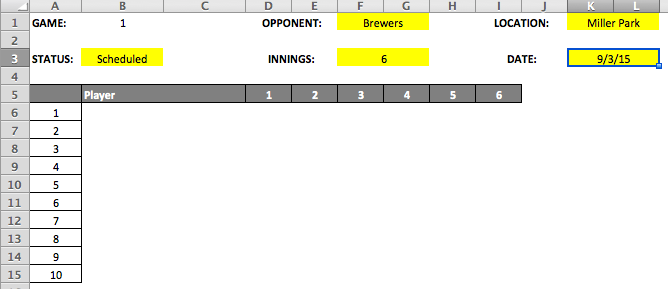 The number of innings is the only truly important information here as the rest are for informational purposes so that you can keep track.
You'll now click the drop-downs for player names for each lineup spot. This pulls from your roster tab.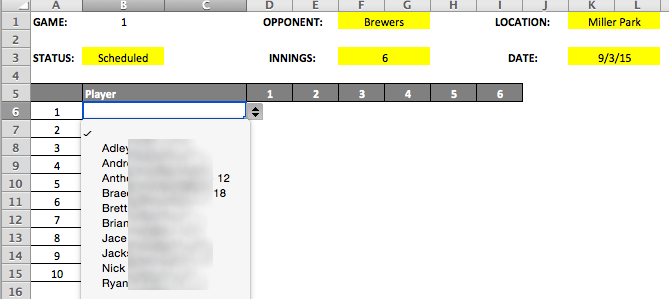 Then select the positions you expect each player to play by inning.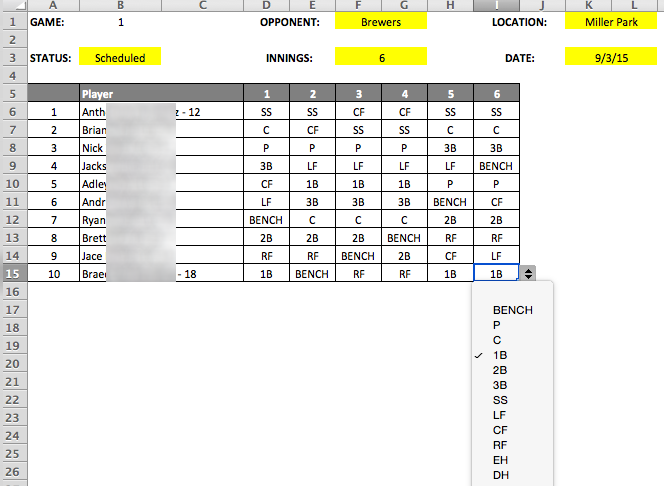 When the game is over, go back through this sheet to make any corrections based on changes you made on the fly. If the game didn't go six innings, change the number of innings you played and remove or add positions played as necessary.

Note that none of your logs will populate with information until you mark your game finished. Also, you can't mark a game finished until the previous game was also marked finished (or you will get errors).
Note that these individual game lineups are also printer friendly. That's important since it gives you something that you can take to the games!
(Visited 26,903 times, 1 visits today)