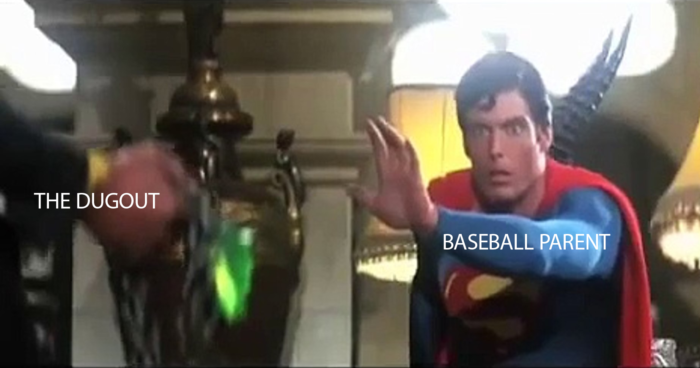 I needed a soft way to say it, so I used a Superman analogy. Whatever it takes for you to understand it, this is important.
The temptation will be strong. You'll convince yourself it's important. You'll think it's no big deal. But, please…
Stay away from the dugout.
Of all of the expectations I have of parents, this may be the one that they struggle with most.
Your coach may not have ever communicated this with you before, but I guarantee he feels the same way. There's no benefit in having parents come over to the dugout during the game.
Superman, It's a Trap!
You're Superman. Your son is a cat in the tree. But that tree is the dugout, and it's built out of Kryptonite.
Have I taken this analogy too far yet?
The cat doesn't need saving. He's a cat. He likes being in the tree. He might climb down. He might not. Either way, that tree is made out of Kryptonite, so if you save that cat who doesn't need saving, you put yourself at risk — and won't be able to help citizens of the world who are actually in trouble!
Let that cat be a cat. It's a trap.
It Can Wait
Barring some very rare emergency, whatever it is that you think you need to tell him at this moment can wait. You don't need to come to the dugout.
You may think that he needs to be reminded about his mechanics or approach or responsibility.
It can wait.
You may think that he needs a pep talk because you can see he's struggling.
It can wait.
You mean well. But he doesn't need you right now.
It's a Distraction
He may be focused on his responsibilities right now. Then you come over and give him something else to think about.
He may have had a bad at bat, but he wasn't thinking about it. Then you came over to remind him that it could have been better.
Time interacting with you is time that could have been spent interacting with teammates and coaches. It's an unnecessary distraction.
Give Him What He Needs
Many of the times that a parent comes to the dugout, it's for a rather innocent reason. Their son needs a water, snack, or some piece of equipment.
That's understandable. But make sure your son has everything he needs when you drop him off.
He's Going to Be Fine
This is the most difficult part for parents. It's like dropping them off for the first day of school and not seeing them again until they come home. You trust that the teachers will take care of them. That they'll do what they're supposed to do.
They need some independence right now. They need to fail, succeed, and try on their own. They need to sort through the mental roller coaster of a game without you.
The more he learns to do these things without you, the better off he'll be. Otherwise, he will rely on you. The more you inject yourself into his experience, the more he'll need your advice.
Let go. He's going to be fine.
Try to Stay Out of Immediate View
I know. You just like to watch the game right behind the dugout. Or right beside it when there's a chain-link fence or no fence at all.
When you get that eye contact, you'll want to say something. And if he sees you there, he may say something first. At that point, you have to talk to him, right? Eh eh.
Do yourself a favor and move further away. Take a seat in the stands. Cheer him on nice and loud, but you don't need to have conversations with him during the game.
Just remember: You're Superman. That dugout is Kryptonite. The safety of the planet is at stake!
Is He Hurt?
Hey, there's actually a chance you'll be needed if he's hurt. Maybe we need ice. Maybe he has an illness or injury that you need to help with.
If he's seriously hurt, it's completely understandable that you'll be there and be needed.
There are obvious exceptions to this rule.
Ask the Coach First
Maybe there's a really good reason you want to come to the dugout. Maybe he forgot his water and it's 98 degrees out.
No problem! Ask the coach, and he'll give the water to your son for you.
Maybe you noticed that he's hurt or not feeling well and the coach doesn't see it. Instead of going to the dugout to talk to your son, mention it to the coach.
When in doubt, simply ask your coach about whatever it is that you want to communicate. He'll either help you out or tell you it's a bad time.
Coaches Will Be Less Understanding Later
I don't know how old your son is. But some coaches are very strict about this. They'll likely be stricter as your son gets older.
My older son plays for a team that is extremely strict about this. They do not communicate with the parents. They only communicate with the players. If a parent comes to the dugout, the player is benched.
My son knows this. As a result, he doesn't want me there. I went over to give him a drink or sandwich or something once, and he ran away.
The sooner you and your son learn this, the better.
Your Turn
What are your thoughts about parents coming to the dugout?
Let me know in the comments below!
(Visited 4,429 times, 1 visits today)