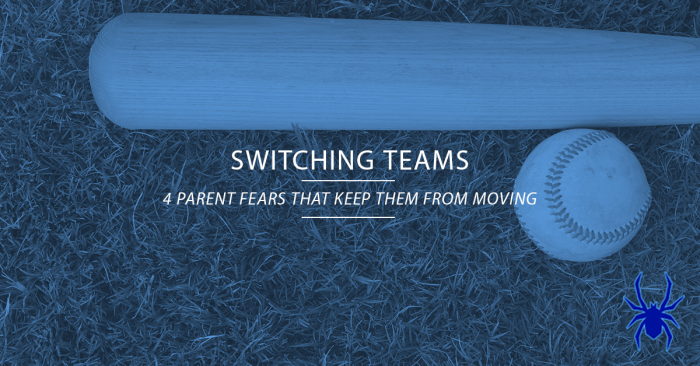 It may be eight or nine months from the start of the 2016 spring and summer baseball season, but teams have already begun the process of finalizing rosters. The Spiders just participated in our first tryout a week ago to help us determine the first members of our team.
Since I am looking for experienced players, this means that I will be adding players willing to move from their current teams. While I passionately believe that the Spiders have something that few teams can compete with, switching tournament baseball teams is not an easy decision — nor should it be.
As I've been emailing and calling parents to make my sales pitch to join what we are doing with the Spiders, I'm spotting a trend among those who choose not to join us: The fear of change and the unknown keeps them from moving on.
Change is hard. Change is uncomfortable. But some of the things that cause the most discomfort bring the greatest rewards.
While I speak with these parents, I hear that many are unhappy where they are. They love what we're doing with the Spiders. But when we don't end up adding these kids to our roster, it's not because they chose to move to another team.
Most choose to stay where they are.
I compare it to a bad relationship. You aren't happy with your current significant other. But instead of leaving for the unknown, you stay with what is "comfortable" even if it doesn't make you happy.
Back to baseball, these families often know that their current team isn't the best situation for them — which is why they were looking at alternatives in the first place — but the discomfort of starting over is less desirable than dealing with what they know.
That doesn't mean that you change for the sake of change. But repeatedly, I'm seeing that there are four main parent fears that are keeping kids in an unhappy situation.
Let's take a closer look at these parent fears that are keeping kids where they are…
Change is hard. Here are 4 parent fears that keep kids from switching tournament baseball teams...
Click To Tweet
1. Unknown About the Coach
While some of these parents are more open with me than others about their reasons for looking around, it's often about an unsatisfactory experience with a coach. Yet moving from that coach to an unknown is an uncomfortable proposition.
You don't know if you'll be happy with the coach. Will he be fair? Is he organized? Does he communicate well? How will he treat your child? What is his coaching style?
Unless it's a coach you've had experience with before, this is a difficult one to read. And it may be the single most important factor for joining a team.
A bad fit — not necessarily a bad coach — can ruin the experience.
So what can be done to make sure the right kid is placed on the right team?
As a Parent
You can't join a team without getting to know a coach. That's not fair to your child. It's gambling that you're making the right decision without doing any research.
As a parent, you should first do your research on the coach. Find out who has played for him before and talk to those parents. Are they happy? Is his style consistent with what you're looking for?
Also make sure to talk with your coach. Get on a phone call or meet face-to-face. Ask these questions:
What type of player are you looking for?
How would you describe your coaching style?
How do you handle playing time?
How do you determine the lineup?
What type of player are you looking to avoid?
What are your strengths as a coach?
What are your weaknesses as a coach?
You should be able to walk away with a much better understanding of who your potential coach is and whether you should have your child join his team.
As a Coach
As a coach, you need to be aware that this is going to be a prime factor for why a family may or may not join your team. Be prepared for it.
I created this site for the primary reason of making this step easier. You don't know me? Read my website. I'm an open book. My philosophies are laid out here in great detail.
Since the Spiders are an unknown to most people, I'll open with an introductory email. This isn't right for everyone, but I find I'm better at communicating to a new family in this way. This email expresses my interest while providing details about me as a coach and the team, and it provides links to helpful articles I've written here.
I then follow up that email with a phone call. Hopefully the parent has already done their research on me and the team, making the call easier. I'm prepared to answer all of the questions mentioned earlier.
If the call goes well, I then gauge the level of comfort from both sides. If we're both ready, I'll send an offer to join the Spiders. But more often than not, I'll suggest a face-to-face meeting where I can meet the parent and child to be sure we're the right fit.
While some will make this a second tryout, I prefer something less formal. It's more that I want to see if the family, child and I can communicate well. I'll also bring along my son to potentially play catch with the prospective player.
2. Unknown About the Players
Finding the right coach is important. But possibly just as important are the players. I've seen cases where the wrong kids can disrupt, or even blow up, an entire team.
You don't know if you'll be happy with the players. Will they play at the level you want? Will they form friendships with your child and treat him fairly? Will they be good character kids?
It's important that you find the right fit.
As a Parent
It's easy if you already have established friendships on this team. But that won't always be the case.
Find out the names of the players already on this team's roster. Pass them on to other parents to see what you can find out. Get an idea of ability level as well as the personalities of these kids.
If the coach is friendly, polite and a good communicator, it's often a good sign that his son will be as well. But consider setting up a face-to-face where your child gets to meet the coach and his son.
As a Coach
Picking the wrong personality is something that is my biggest fear as a coach. It's something that isn't always found in a tryout, so it's too easy to add the wrong kid.
That doesn't mean that it's a bad kid. But sometimes a player is simply a bad fit for a coach's style.
I want a kid who works hard, never quits, is disciplined, remains positive, encourages his teammates and doesn't complain about his role.
In my phone call with the parent, I'll collect information that will help me piece together the child's personality traits. I'll get a sense of how that child would respond during adversity or if they weren't getting the playing time they wanted.
In a face-to-face, I'll often sit down with the player and lay out a "worst case" scenario. You want to play shortstop, but maybe this team has players who are better at the position. You want to hit at the top of the order, but maybe this roster is stacked with better offensive players.
Would you accept being a role player? Would you be okay with primarily being an outfielder, subbing and hitting near the bottom of the order?
It's not that I want them to accept poor performance. It's more that if they do their best and the players around them are simply better, how will they handle it?
While a family should research the coach and players of a prospective team, the coach should also research the family and players.
I will find out how many teams a kid has played for during the past few years. I will also ask other parents and coaches what they know about a player.
Sometimes I'll even reach out to the player's current coach. In my situation, there are times when it's public knowledge that a kid is trying out because it's a multi-team tryout and the current coach is also there. So I'll get a sense of whether the coach is trying to retain that player and what's going on with him.
3. Unknown About the Families
This is one factor that I've found is very high on the list of parents uneasy about moving their child to a new team. Their child has played with the same kids for several years, and relationships have been built up with their families.
You don't know if you'll be happy with the families. Will they be supportive of the team? Will there be drama? Will they accept you into their baseball family?
As a Parent
If a parent doesn't know the current families, this is a bit more difficult. But it doesn't mean that a move shouldn't be made.
Beyond the same research that should be conducted surrounding players and coaches, a parent should ask the coach some basic questions.
How do parents currently support you?
How could I best support you?
How well do the families get along?
What team building events do you have?
How would you describe the families at games? Loud? Quiet? Energetic?
If you want to be deeply involved, it's important that you find out whether there's a role available to you on this team. If it's an established team, it may be difficult to find a role.
As a Coach
Finding the right families is so important for a coach. You could have a player who is a perfect fit in ability and personality, but an uncooperative family can ruin that.
Following are some questions that you can ask as a coach:
How would you describe your involvement with the current team?
How would you like to be involved on this team?
How would you describe your interaction during games?
What is your relationship with your current coach?
What role do you expect for your child?
How would you react if your child's role is not what you want?
You can't have a roster of 11 players whose parents all think they should be the star. While some will get those primary roles, most won't. And as coaches, we need to be sure that parents are not only honest with themselves about their child's role, but supportive of the coach's decisions.
4. Causing Drama
This is a basic one, but end of the day it may be the biggest motivator for parents staying where they are: They don't want to rock the boat.
It's not only that they'd rather deal with their current coach and team than the uncertainty of a new coach, group of players and families. It's that they don't want to upset their current relationships.
By leaving, feelings are likely to be hurt. It's virtually impossible to avoid. Your prior coaches and families may be defensive about why you decided to leave them.
If you have established friendships with those families, those relationships may be in jeopardy if not handled creatively.
Additionally, you can expect to see these teams again. Sometimes, you may be training at the same facility. Or you may play them in future tournaments.
This will be uncomfortable. The thought of this drama is so uncomfortable that many parents will decide to simply remain where they are.
I won't lie to you. This is something that worries me as well. We left a team to start something of our own. What happens to those relationships? What happens when we undoubtedly face off against that team next year?
I hope we'll retain those friendships. I hope that there won't be hurt feelings. And I hope that any future meeting will be friendly.
But the fear of drama was absolutely something that I weighed when initially making this move, and I understand why other parents fear the same.
Your Turn
Have you switched teams before? Is it something you're considering? What would you add to this list?
Let me know in the comments below!
(Visited 34,924 times, 2 visits today)