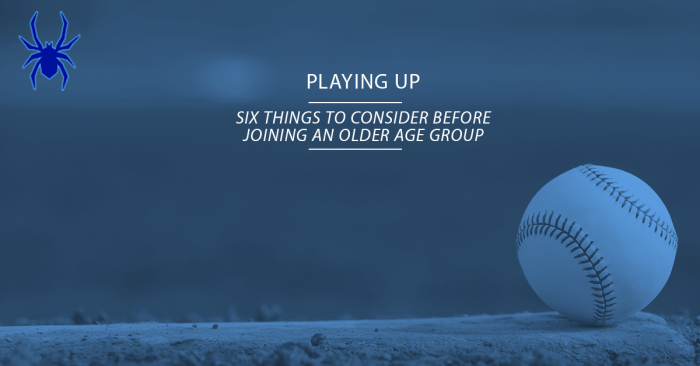 Should my kid play up with older kids?
This is a question we have asked ourselves with each of our three boys. Michael, now 14, didn't play up. Ryan, now 11, has played up since he was eight. JJ, now seven, will likely always play with his age group.
The thing is, though, that JJ could end up being the best baseball player of the three — no offense to his older brothers, who are great players in their own right. But the considerations for playing up go well beyond ability.
Let's take a look at the six things you should consider before making the leap…
Should my kid play up? Here are 6 things to consider before joining an older age group...
Click To Tweet
1. High School Aspirations
If your child has no hopes or dreams to play baseball in high school, there is really no reason to push this. If he's a great player but doesn't want to play in high school, allow him to tear it up at the youth level.
This is first for a reason. If your child is fine just playing baseball with his current age group, there's no reason to rock the boat. Keep having fun where he's at.
But if playing in high school is something he wants to do, let's make sure he's as prepared as possible. And playing with the right level — and the right age — should be a priority.
2. Grade vs. Age
My two older sons are both old for their "baseball age." In other words, their birthdays fall immediately after the cutoff, so they are almost always the oldest or one of the oldest kids at their level.
The truth is that we never considered playing up with Michael. As the oldest, it never occurred to us that it may be the right thing until it was too late. If we had to do it all over again, we may have handled him differently.
And that really has very little to do with his ability level. He's a very good player. But he played with a really good group of kids, and he remained challenged.
However, most of the kids he played with this year on his 13u team were seventh graders. He was in eighth and is now preparing for high school. Suddenly, we're looking at his friends playing for 14u teams and wondering if we did the right thing.
It is precisely why we have been playing his younger brother Ryan up. Ryan turned 11 this May, but is league age 10. He played tournament ball with 11-year-olds who, like Ryan, were mostly fifth graders.
By playing with kids his grade instead of baseball age, he'll also have the opportunity to play with kids he goes to school with or may play against.
If the desire and ability are there, here is a breakdown of the ideal age group by grade…
14u: 8th Grade
13u: 7th Grade
12u: 6th Grade
11u: 5th Grade
10u: 4th Grade
Our youngest son JJ actually lands on the other side of the age spectrum. He turned seven in April, which means he falls immediately before the age cutoff. As a result, he will always be one of the youngest kids at his age level.
While JJ is a heck of a player, there is then very little reason to have him play up. We'll just need to make sure we find a team at his age level that keeps him challenged.
3. Physical Development
Now, I am the father of three boys who aren't particularly gifted with size. I blame their mother for that, who is 5'0″. So understand I'm not only referring to size here, though it certainly doesn't hurt!
How fast is your child? Does he have good quickness and reaction time? Does he have good arm strength? Does he hit the ball hard?
The truth is that size isn't everything when it comes to throwing and hitting the ball hard. Good mechanics help a lot.
Ultimately, though, you need to make an unbiased determination about the physical development of your child. We're not even talking specifically about ability here. But are his raw skills at the level of kids at the next age up?
4. Emotional Development
Just as important as physical development, and sometimes more so.
Is your child mature for his age? Can he handle the ups and downs of a long season and the adversity? Does he cry easily and take a while to recover when things don't go his way? Is he focused on himself rather than the team? Will he be a good team player, and would he accept a lesser role?
There are some emotional traits that are often confused for selfishness, but in many cases it's simply a lack of maturity. It's entirely normal, but an immature kid should not consider playing up until he gets those things under control.
5. Ability
Clearly, ability needs to be a consideration. He may have the high school aspirations. The grade, physical and emotional development may be there. But without the ability, playing up doesn't make much sense.
You and your child need to be honest with yourselves on this. It doesn't mean that he won't ever play in high school. But if he's not already one of the best players — or THE best player — on his team, playing up shouldn't be a consideration.
6. Team Level of Play
While I feel we probably should have had Michael play up, it has nothing to do with him being too good for the teams he's been on. And really, I'm confident that we didn't screw him up because of the fact that he remained challenged.
If you're going to play up, make sure that the level of play is appropriate. You don't want to go from being the best player one year to the worst player the next. A lack of repetitions can hurt development, but it will also likely negatively impact the reps he gets in the field.
Keep in mind that, depending on the region where you play, there should almost always be a team at the appropriate level of play, regardless of the ability of your child. If your child is a superstar, he may not need to play up — there are nationally ranked teams at his age level that may be a good fit.
Likewise, it may make sense for a very good (but not dominant) player to play up, but at a slightly lower level. The key is to keep your child challenged while remaining at least an average contributor to the team.
A Note on Development
As both a coach and a dad to a kid playing up, my primary goal is putting my son Ryan in a situation where he is neither the best nor worst player on the team.
In his first year of tournament baseball, Ryan was nine playing with 10-year-olds (he was an eight-year-old playing with nine and 10s in Little League). As a coach, I had some control over his development, and we approached it cautiously.
Ryan was actually joined by another nine-year-old named Miles, who similarly was old for his baseball age. I handled both of them similarly. They had limited, though important, roles in that first year to get their feet wet without overwhelming them.
Ryan was the backup catcher to a player who received the majority of innings behind the plate. He otherwise played mainly second base as his arm strength was not yet ready for anything on the left side of the diamond. He hit in the lower third of the lineup.
Miles was primarily an outfielder, playing some second base. His main weakness was at the plate, and hit near the bottom.
Both Ryan and Miles were two of the primary players who shared time on this roster. But the key was that they embraced their roles, they didn't complain and they grew as a result.
One year later, both kids played much larger roles on their team. Ryan is now the primary catcher (and an excellent one at that) and Miles is one of the finest outfielders I've ever seen at this level. Both advanced as hitters with Ryan now being one of the leading offensive players on his team.
Additionally, I acknowledge that taking this route may have limited both Ryan and Miles' development as pitchers. While they didn't pitch much for their tournament team this year, they did get plenty of opportunities while also playing in Little League — and excelled.
Know that when you decide to play up, your child doesn't need to be the star if the focus is on development. But it's important that both you and your child accept and embrace this limited role. Otherwise, it will not be a good experience.
Your Turn
Is your child playing up, or is it something you're considering? How has the experience been, or what has been the process as you make this decision?
Let me know in the comments below!
(Visited 25,732 times, 3 visits today)