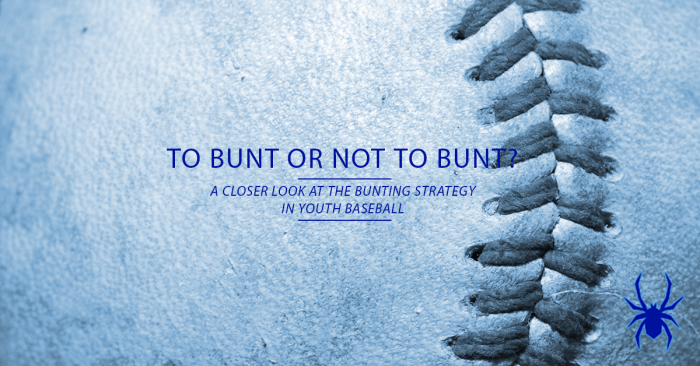 This is a post I've considered writing since the site was launched, but I've held off because I know the topic can be so controversial. Discussing the decision to bunt is a lot like discussing politics or religion. One side feels very strongly one way, and the other side is 100% sure they're wrong.
The bunt has been a big part of the game for a long, long time. However, there is an anti-bunt movement starting in Sabermetrics that is now spilling down to youth baseball. There are strong opinions supporting both sides.
Let me be up front with you: I am strongly anti-bunt. I don't even have a bunt sign. I laugh when my opponent bunts because it almost never works — or it doesn't have the impact they think it has.
Sports are littered with outdated strategies that are simply accepted as being best practice without questioning why. Choosing to be home or visitor was one I covered recently. Bunting is another.
For the pro-bunt crowd, let me quickly respond: I know. Bunts work sometimes. Some teams are bunt-heavy and are successful. Sometimes it even makes sense to bunt.
But overall, I feel this strategy is grossly misused — particularly in youth baseball. Let me explain why…
To bunt or not to bunt? In youth baseball, this approach may be grossly misused...
Click To Tweet
Wasted Strikes
I know there are some good bunting teams and players out there, but I rarely see them. Instead, I see more failed bunt attempts than I can count.
A batter comes up with a runner on with no outs, so the coach wants to move him over. The batter bunts the first pitch. Foul. Bunts the second pitch. Foul. Then strikes out or has to protect the plate and swings at a bad pitch and results in a weak out.
Strikes are valuable. It's why I preach selective aggression — you only get three good pitches to swing at (plus fouls), so every wasted strike is a wasted opportunity, putting the batter in a worse position.
Bunting Bad Pitches
At the youth level, one of a coach's challenges is getting kids to swing only at strikes. The high pitch is enticing, but they need to lay off. Some kids love the ball in the dirt.
When bunting, the batter has a completely different perspective. As a result, I tend to see a high percentage of bunt attempts at pitches that need to be taken. Some kids simply get into the frame of mind that if they got the bunt sign they need to bunt this pitch.
If they are bunting (and likely fouling) a pitch they wouldn't normally swing at, they are putting themselves into a worse count than they would have been in normally.
Wasting At Bats and Giving Away Outs
My son's 11-year-old team has an OBP of .505 as a team. As 10s, it was .525. That means that the average kid gets on base more than half of the time. The rest of the time will be a combination of strikeouts, flyouts, lineouts, groundouts and popouts.
On Base Percentage will go down as a group as kids get older, the fielding improves and the bases get longer. But probability of getting on base by swinging away will remain quite good.
While a bunt attempt doesn't guarantee an out, it results in one far more often than when kids are swinging away. And even when a kid swinging away doesn't get on base, it often has the same result (moving the runner over) that the coach wanted when bunting.
So when a coach attempts to give me an out, I thank him. It makes my job easier.
Something I see far too often is teams having a designated bunter (or a player who bunts a lot) batting second in the lineup. They have a kid whose sole responsibility is to bunt for a hit or bunt the runners over.
Nearly every time to the plate.
This is such a waste. By doing this, you are giving an inferior hitter (who undoubtedly gets on base less often and has fewer extra base hits) more plate appearances than a superior hitter. You may not notice the impact in a single game, but over the course of a season this will limit your runs.
Keep in mind that at the youth level, getting on base is pretty darn easy — especially for the best hitters. In many cases, the best hitters don't need runners to be moved up a base to get them home. There's a high probability for an extra base hit anyway.
Now, if you are my opponent and you have a designated bunter hitting second, I thank you. I'd much rather face that kid than your best hitter anyway. And I'd also prefer to face your best hitters with more outs on the board.
Stolen Bases
This is probably my biggest issue with the bunt. There are just so many ways that a runner can move up without it.
The younger ages that have leadoffs can steal successfully close to 100% of the time. As they get older, that percentage begins to drop. Still, kids will continue to steal successfully at a very high rate.
It kills me when I see a team bunting that has a fast kid on the bases. The odds of moving him up with a steal are higher than moving him up with a bunt in that case.
The bunt requires that the player put the ball in play and put it down properly. More moving parts than the steal.
Passed Balls and Wild Pitches
I've seen this scenario far too often. A batter is up with a runner on first and no outs. The batter lays down a bunt on the first pitch, the runner move up to second and the batter is retired.
The coaches praise the batter for an amazing job of bunting.
With the very next batter at the plate, a wild pitch is thrown. Or a passed ball.
Do the coaches who were praising the bunt see what just happened? That had they not bunted, the runner would have moved up anyway?
I'm not saying that a wild pitch or passed ball is going to happen with every batter. But combined with a stolen base, there are so many ways runners can move up without bunting that it's too conservative and unnecessary.
Limiting Potential
Let's say you have a good bunter. He moves the runner over. Or maybe he even reaches safely. That's great, but there are a couple of things to consider here when comparing potential when bunting or swinging away.
First, as discussed earlier there is a high potential for failure. Fouled bunts will lead to bad at bats or strikeouts. The batter may not even get the ball down in the first place. Or it may not go as planned — forcing a runner out.
Second, a "successful" bunt simply has a low ceiling for the best possible outcome. The most likely scenario is that an out occurs. If the runner gets on, maybe everyone is safe. Further down the list of possibilities is that the ball is thrown around and the batter advances beyond first.
But if the batter swings away, the entire book of possibilities is open. He may walk. He may get a single that moves runners beyond one base. He may get a double, triple or home run. He may get an out that advances the runners anyway. And he may hit into an out that doesn't.
The main point here is that the options are more — and the potential greater — for swinging away. By bunting, you're playing for a single run. By swinging away, you're playing for a big inning.
I often shake my head when I see one of a team's better hitters bunting. The disparity in potential between bunting and swinging away grows for those better hitters. You just took what was a high potential big inning and made it a low potential big inning by having that good hitter give himself up.
Wasting Reps
There are some great bunting teams out there. There are some great bunting players, too. In each case, they may make the anti-bunt stance look silly.
But I'd argue that such teams — even the successful ones — are limiting their potential. In order to become great bunters, they need to practice a high number of reps.
These reps spent on bunting could have been spent on hitting. Or pitching. Or fielding. Each of these things have a high impact on the game on every single play.
I prefer to maximize the number of reps for these core activities while maximizing potential.
I'm Sure There Are Exceptions
I know some will say that Team X is an amazing bunting team or that Tommy Jones hits .600 while being mainly a bunter.
Exceptions don't prove a point. They are exceptions.
Still, I can't help but wonder how good Team X would be if they instead swung away — and dedicated those bunting reps to something else. Or how good Tommy could be if instead of bunt outs and singles he were hitting singles, doubles, triples and homers that moved the runners further along the bases.
Your Turn
What is your feeling on the bunt? Are you pro-bunt or anti-bunt?
Let me know in the comments below!
(Visited 21,057 times, 1 visits today)