Three years ago, I sat on a ledge with a fellow Little League All-Star coach, chatting about the usual meaningless stuff. It was our second year in Little League, and our first experiencing an All-Star tournament.
That coach told me that he and his 10-year-old son were leaving Little League. They were starting their own tournament team, and we were invited.
I didn't give it much thought at the time. Talk of going from costs of $150 per year with Little League to a couple grand seemed like insanity. Not to mention the disappointment that this coach and player were abandoning something big we felt we were creating.
Fast forward to today, and things have changed. Things have changed a lot. Not only do we now have two years of tournament ball under our belts, but we are now starting our own team.
How did this happen?
Tournament baseball isn't for everyone. But here's a story of how one skeptical family converted...
Click To Tweet
When I Was a Kid…
Any talk of tournament ball had always seemed crazy to me. I grew up in a small town in Wisconsin. Wherever I went, I got the competition I needed, and I was always good enough to keep playing. Even as we moved around from town to town, those baseball experiences formed my childhood.
Little League. Pee Wee Reese. Sandy Koufax. Babe Ruth. High school ball. American Legion ball.
It didn't feel like rec ball to me. Our high school and American Legion teams had won or participated in several state tournaments during and around the time I played. This seemed like competitive ball.
I grew up a baseball addict. When I was seven, the Brewers went to the World Series. I fell in love with that team, and to this day I'm still a Brewers fan — even though we live in Colorado. I even managed to raise my sons that way (how did I convince them to do that??).
I've always loved the game, but I'll admit that it eventually became too much. That final year became less fun with each new season. First high school ball during my senior season. Then American Legion. Then fall ball for my college team. Then spring.
It didn't help that our spring team was terrible. Not that I was particularly good either. Suddenly baseball felt like a year-around job, but with little payoff.
I burned out, and that was without tournament ball. I regret giving up the game I loved, and I didn't want that to happen to my kids.
My Kids: The Early Years
For the longest time, we felt no need for "more." Here in Parker, our oldest son Michael played rec ball and I coached him there through his eighth birthday. But by then, it felt that he had outgrown it. We both wanted more.
But around here, we didn't have Little League. The options — at least as far as we could tell — were either rec ball or Hawks. To us at the time, Hawks was a ridiculously and unnecessarily expensive alternative. But many of our kids' friends played Hawks.
So when Michael was nine, we made the decision to register him for Little League. Of course, there wasn't a Little League in our town, so we'd travel to nearby Aurora.
That first year, we were too late for assessments, so Michael played in the minors for the Orioles. As always, I coached.
It seemed fine. It seemed like enough. But we also didn't know any better.
The following year, Michael played his first year of 9/10 majors for that Little League. I again coached. And when he was selected for the All-Star team, I helped coach that team for the first of what would be four consecutive years.
We had a great group of kids on that team. Plenty of talent. But we couldn't get past the district tournament.
Why? Well, we lost to more polished teams. These teams just happened to also play tournament ball.
The First Year of Tournament Ball: Initial Reluctance
A year after that first All-Star experience, that same group of kids again lost in districts. In fact, all of our teams at every level lost. And it was the same story every time: We lost to teams that also played tournament baseball.
One of the dads had taken it upon himself to start more than just a tournament team. He was going to start a league.
I initially thought it was crazy. The costs were too much. I didn't want my kids to burn out. And I didn't want to be one of those teams with matching bags, helmets and underwear.
But this was going to be different. We would all remain in Little League, but the purpose of this tournament team — available only to those who also played Little League — was to make us competitive in districts.
My wife and I talked it through, and we reluctantly agreed to join. Michael would play for the 12s, and I'd coach the 10s — my middle son Ryan would play up as a nine-year-old.
We Loved Tournament Ball
We may have taken a while to come around. But when we made it, we were in this life for good.
My boys loved tournament ball. I loved coaching it. We loved watching the games. And it was clear just how much better they got because of it.
The results were immediate. It was now obvious when we played our Little League games which kids played tournament ball and which didn't. It got to the point where it was unfair.
Rewind to Michael's first year of All-Stars, and you'll recall that we couldn't get past those tournament teams. Well, things sure changed in that first year of tournament ball.
Our 10s team not only won district, but we won state for the first time ever for that age group. Similar success was seen at every single level.
These kids — so rough around the edges when we started — got that much better because of tournament ball. There is no secret whatsoever to our success.
Looking back, there were several things that held us back from playing tournament ball sooner. And they are likely the same things keeping others back in similar situations…
Yes, It's More Expensive
How much this stuff costs will depend on the team. Things like uniforms, number of tournaments, training facility, insurance and amount of travel all contribute.
If you play for a team that just stays locally, you can often expect to pay between $1,000 and $1,500. But that's really bare minimum here.
Others easily spend $2,000, and often much more. But fundraisers and sponsors can also help keep the costs down.
Bottom line is that you should make sure that what you want to spend aligns with what your team wants to do.
Yes, It's a Time Commitment
Make no mistake, I have very few free evenings from March through July. And weekend vacations just don't happen anymore.
Again, the time commitment will depend on the team, but you should certainly expect that you'll be extremely busy. Practices, tournaments and team bonding events all add up. And if you have multiple kids playing at the same time, I hope you like baseball!
Since many of these teams run on volunteers, also plan to help. Whether you're the head coach, assistant coach, scorekeeper or team parent, the parents make the team successful.
Yes, You Can Play Other Sports
I know one of the concerns about tournament baseball is that kids become too specialized and no longer play other sports. But this doesn't need to be the case.
Michael still runs cross country and track after playing basketball for several years as well. Ryan still plays basketball after finally giving up flag football. He also plans to run cross country.
Baseball shouldn't be a job for these kids. They love it. But playing other sports is good for them, too.
Granted, there are sometimes conflicts. We do have to get creative running them from one sport to another. But it can be done!
No, You Don't Have to Travel THAT Much
Some teams have an insane travel schedule. They'll go to Cooperstown. Omaha. Texas. San Diego. Arizona. The list goes on and on.
But just know that you don't have to do this if you don't want that type of travel. Our first two years of travel ball, we never once traveled out of state.
Depending on where you play and the level your kids play at, it's very likely there's more than enough competition in state. We will do a handful of overnight tournaments that are farther away in state, and those are always fun.
But this type of commitment should be determined by the families. Decide up front just how much traveling you are willing to do.
Yes, Tournament Ball is Freaking AWESOME
The memories that have been formed from our boys playing tournament baseball have been amazing. So many awesome games. So many big moments. So many friends made and unique experiences.
We've spent so much time with the team — the players, coaches and parents — that they have become our extended family. The bonds we've formed from this experience cannot be replaced.
While we were initially reluctant, the move was absolutely worthwhile. Our boys — who were already baseball crazed — are more obsessed with the game than ever before. They take pride in their team, and they work hard to get better.
As parents, we might be more stressed than before. Coaching this level certainly results in less sleep and higher blood pressure. But we wouldn't trade these experiences for anything.
I don't know whether our boys will one day play baseball in high school, college or beyond. That doesn't really matter. All I know is that they are doing what they love at a high level, and seeing the joy on their faces is all the reassurance I need that we did the right thing.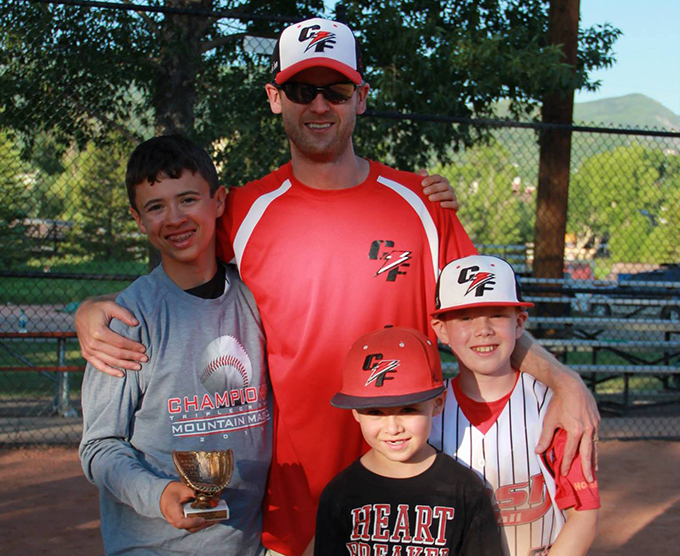 Your Turn
What's your story? How and when did you decide to join tournament ball? Or if you haven't, what's holding you back?
Let me know in the comments below!
(Visited 20,049 times, 1 visits today)