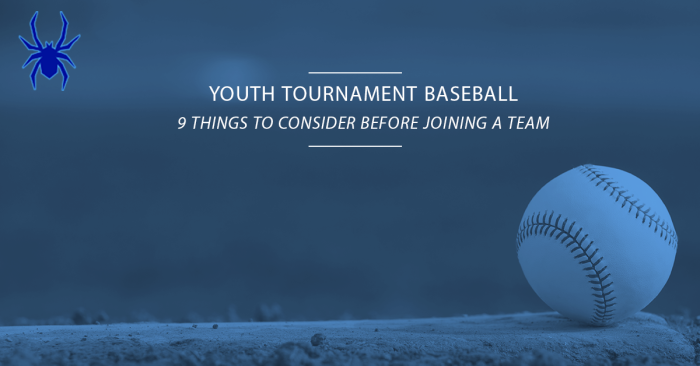 As competition for limited spots on high school baseball teams increases, more and more parents are looking into youth tournament baseball teams. While these teams may not be required (some kids may have the talent without it), the hope is that playing more games against better competition will give them the best possible chance at success.
This is mostly true — at least when the right team is found for the child. When the team fits the player, we've seen incredible progress that is difficult to achieve otherwise. But picking the wrong team can make a negative impact as well.
Pick wisely. You may determine that tournament baseball isn't right for your child at all. Do your research on these teams to find the right fit for your child.
Here's a list of nine things to consider before joining the Spiders or any other youth tournament baseball team.
Before joining that youth tournament baseball team, consider these nine important things...
Click To Tweet
1. The Coach
This may be most important since the coach is the one person has makes the greatest impact on your child. Make sure you meet the coach and fully understand his philosophy and expectations before moving forward.
Is the coach respectful of others? Is he a jerk? How will he treat the umpires, opponents and your kid? It's also important that you are able to easily communicate with him to voice any concerns.
Is the coach organized? Are tournaments and practices scheduled long in advanced or on the fly?
What is the coach's communication style? Does he provide all of the information you need via email? Is there a website to access more information? Is he easy to get a hold of via email, phone or text?
Is the coach experienced? How many years has he coached, and at what level? Did he play as well? While playing at a high level isn't necessary to be a coach, some playing experience certainly helps.
What is the coach's coaching philosophy? How does he handle problem kids? Does he make sure every kid gets to play every position, or is the focus on winning games? Who gets benched, when and how often? Which approach is consistent with what you want?
What is the coach's game strategy? Does he bunt? Aggressive on the bases? These things may not seem important, but you may find yourself frustrated later if you have opposing views here.
2. The Teammates
While the coach is important, who your child's teammates will be is extremely important as well.
Do any of these kids go to school with your child? This could be a huge positive if they are, and a potential negative if they aren't.
How many are the same age? Older? Younger?
What do you know about these kids? Do they have good reputations? Joining an unknown situation can be dangerous.
Do these kids seem to be good teammates? How do they treat one another?
What is the ability level of the other kids? My goal is that my son is neither the best nor worst player on the team. I want him to be challenged, but I also don't want him to waste away on the bench.
One of the reasons we started the Spiders was that we wanted to create an environment where our boys were playing with other boys they are going to school with. This way, all kids would have the common goal of playing together on the same high school team.
3. The Families
It certainly helps if you are already close to families connected to a team. This helps provide insight on what type of relationship you can expect with the other families.
The truth is that the team — the kids, their parents and siblings — become something of an extended family. You will spend a lot of time together. Are these people you want to spend time with?
4. The League
The Spiders are an independent team, but many teams are connected to a league to guarantee themselves practice fields. They'll play league games during the week and tournaments on the weekends.
Is the team connected to the league? If so, what do you know about it? How many games will they play within the league? Who is on the board? What is the history and reputation of the league?
5. The Location
One of the reasons we started the Spiders is because the league my boys have been playing in is about 25 minutes from our home. In this case, location is important to us.
How far away is the practice facility? If there are league games, where will they be played?
It may not seem like a big deal now, but you'll soon be making that drive almost every day during the spring and summer. Make sure it's a drive you're willing to make!
6. The Costs
Tournament teams may cost as little as less than $1,000 for a season or as much as $5,000 or more. What are you willing to pay?
Also get a detailed report of what the team fees apply to. Sometimes a team's costs may seem low, but only because there are several "add-ons" that you may not know about.
You may want to get a history of team fees to get an idea of whether costs are consistent or if they are steadily increasingly. This can help give you an idea if you'll be able to take on the costs not only this year but in future seasons.
7. The Tournament Schedule
Do you want your child to be playing five tournaments per season? Or are you looking for something closer to 30?
While age absolutely impacts what is best here, it also comes down to personal preference. There should always be an eye to keeping your child engaged and making sure burnout isn't an issue.
How many tournaments is your child able and wanting to play? Not only that, but how many tournaments are you as a parent willing to attend? The number of tournaments your child plays in
8. The Competition Level
This is a big one. Will the team be playing at a AA, AAA or Majors level? Is it more or less competitive than what your child is used to? Has the team succeeded at that level? And is your child a fit for that level?
You may be attracted to trying out for a particular team based on the team's coach, their success, a friend on the team or that team's reputation. But it's important that the level of play is in line with where your child is headed.
9. The Travel
This is an added cost that isn't found within your team fees. And that cost is both monetary and time.
Some teams will play in tournaments that are only within a reasonable radius of the home city. Others will travel across the country to play in tournaments — either by car or plane. Others provide a mixture.
Personally, I think a little bit of travel is fun for everyone. We plan for a few in-state tournaments that require a hotel stay as well as a couple of out-of-state tournaments. Just know up front what is expected.
Your Turn
There is a limitless list of considerations when picking a youth tournament team. Anything I'm missing?
Let me know in the comments below!
(Visited 42,719 times, 1 visits today)